2006 grape harvest – Saint-Joseph
2006 grape harvest – Saint-Joseph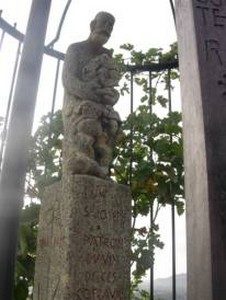 Let's cross the Rhone river today, to harvest grapes for "Saint Joseph".
This Appellation stretches 2 départements and 26 villages:
The Ardèche: Andance, Ardoix, Arras-sur-Rhône, Champagne, Charnas, Châteaubourg, Félines, Glun, Guilherand-Granges, Lemps, Limony, Mauves, Ozon, Peyraud, Saint-Désirat, Saint-Étienne-de-Valoux, Saint-Jean-de-Muzols, Sarras, Sécheras, Serrières, Talencieux, Tournon-sur-Rhône and Vion
The Loire: Chavanay, Malleval, and Saint-Pierre-de-Bœuf
St Joseph has been an appellation since 1956.
Only Syrah grapes are used (sometimes with 10% Roussane and Marsanne white grapes).
We will be back to work next week to pick grapes for our Vin de Pays.