Last day of the 2006 harvest season
Last day of the 2006 harvest season
Today we are picking grapes to make Vin de Pays.
Let's take the opportunity to thank somebody you haven 't seen yet on the photos: Maryline!
She runs the guest house but she also has to prepare loads of food for all the grape pickers. And grape pickers love eating! These last two weeks, she has cooked chicken, wild boar with sauce grand veneur (a reduction of red wine with garlic, shallots and red currant jelly, yum!), pork sausages cooked in grape pomace (yum!) and an array of mouth-watering desserts.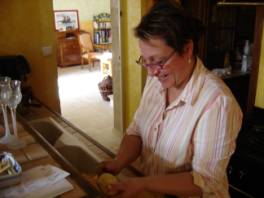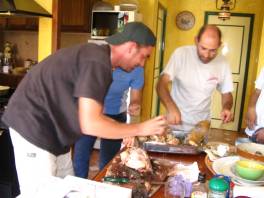 Thanks a lot, Maryline. We'll be right back next year!