New: "Vin de Pays" aged in barrels
New: "Vin de Pays" aged in barrels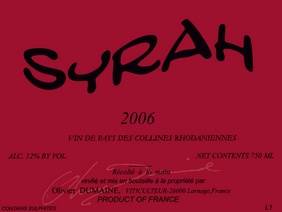 The latest addition to our range of wines: a 100% Syrah "Vin de Pays", aged in barrels (not flavoured with wood chips).
A silky lightly tannic wine, with a ruby colour, with a typical Syrah blackcurrant and redcurrant nose. A perfect match for your summer barbecues with friends.
Only sold in bottles.
Available: March 2007.